SPECIAL OFFER -15% DISCOUNT
Terres Basses ride 2H course with 4 jet skis
Jet ski rental without a license around Saint-Martin
Now established for 6 months in the bay of Anse Marcel in the Caribbean, Island jet offers many aquatic activities that will allow you to discover this exceptional island in complete freedom through its jet ski excursions without a license.
Discover Friendly Island in complete safety
Our state-certified instructors are ready to use their professionalism as well as their perfect knowledge of the island to make you experience unforgettable moments in a dream atmosphere and scenery. State-of-the-art equipment (2021, the only ones on the island), optimal safety, personalized service, photos / videos in HD, protective masks, new safety equipment, everything is done to offer you a tailor-made activity perfectly suited to your expectations.
Jetski rental with license for solo exploration
We also offer rental with a boat license, which will allow you to explore alone around our paradise island. A la carte also, the towed buoy, available at all ages, which will fill you with adrenaline and allow you to discover the bay of Anse Marcel and its many sea turtles.
An adrenaline rush or for a simple jet ski ride
Come and test our new machines and challenge the waves of the Caribbean Sea, soar over the flat water of the lagoon, contemplate the yachts from all over the world, the deserted white sand beaches and have the chance to see turtles and maybe Dolphins! Discover the many surrounding islands and have access to the most inaccessible bays of Saint Martin / Sint Maarten.
The best nautical base on the island of Saint Martin, state-of-the-art equipment (2021, the only ones)
Recently installed in the completely renovated Marina of Anse Marcel, ISLAND JET is a nautical base for renting a jet ski with a license, or under supervision Ideally located in the heart of the most protected Marina on the island, ISLAND JET benefits from a secure, clean and quiet, close to restaurants, shops and other activities offered by this exceptional place.
Thanks to its team of young state-certified instructors, dynamic and from the beautiful island of Saint-Martin, ISLAND JET offers personalized solutions to help you discover the pleasures of jet ski trekking, ranging from a simple snorkeling trip to the complete tour of the island, via the romantic Sunset outing.
Our offer is particularly diversified and we are ready to adapt our proposals according to your desires and your level. Whether you are a fan of thrills or calm and romantic walks, ISLAND JET will inevitably find the answer to your expectations, at a competitive price, in complete safety and supervised by professionals who know perfectly the island of Saint-Martin. Thanks to the ISLAND JET team, you will experience unforgettable moments that we invite you to immortalize with the photos or video option.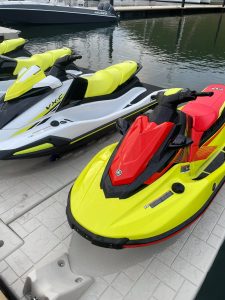 Come and challenge the Caribbean Sea and the Atlantic Ocean aboard our 2021 Jet skis! Our instructors will be delighted ...
Read more